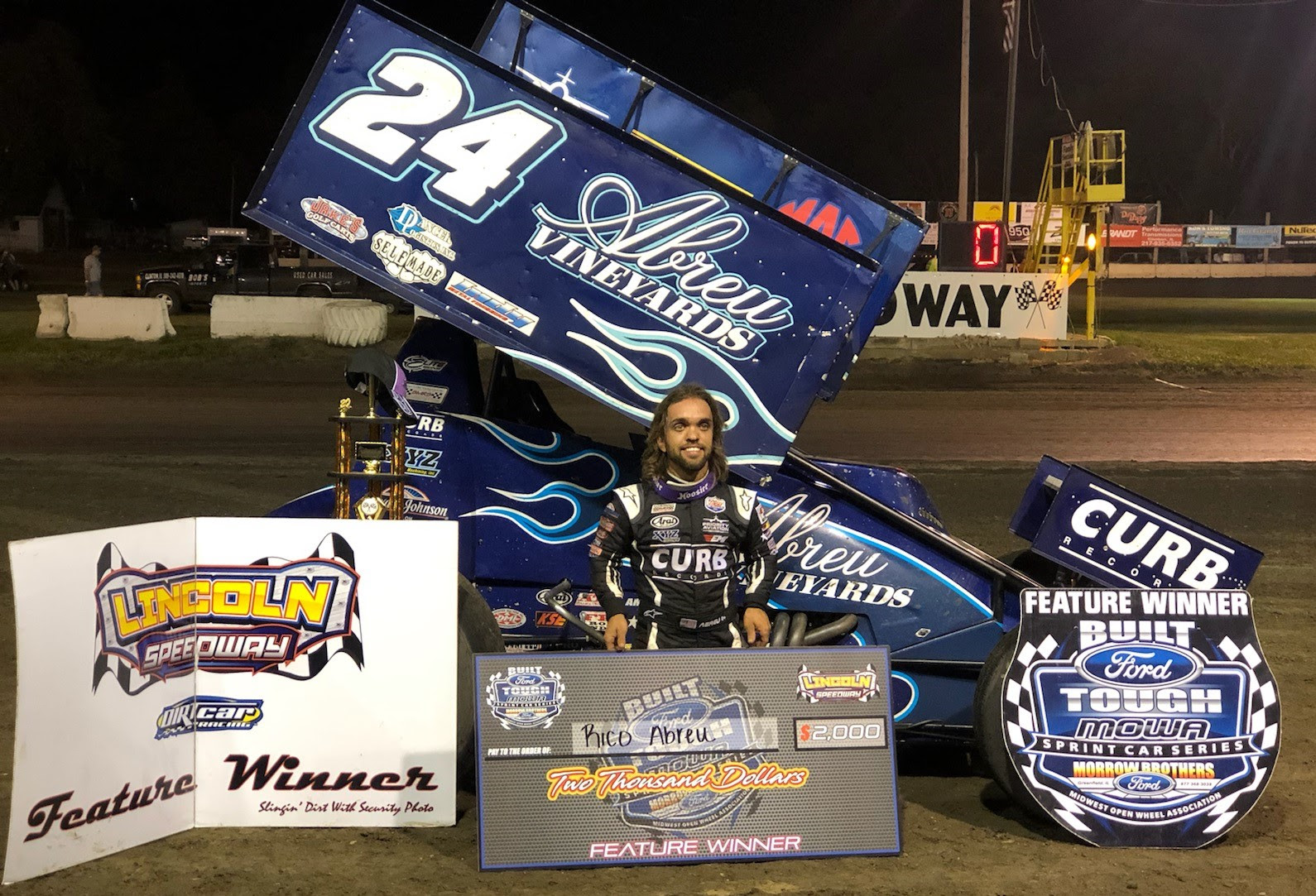 Date: Friday, July 12th
Event: Lincoln Courier Night
Series: Built Ford Tough MOWA Sprint Cars
Track: Lincoln Speedway (Lincoln, Ill.)
Rico Abreu A-Main Finish (Start): 1st (4th)
Date: Saturday, July 13th
Event:Van Wall Equipment Night
Series: Knoxville Weekly
Track: Knoxville Raceway (Knoxville, Iowa)
Rico Abreu A-Main Finish (Start): 6th (10th)
ST. HELENA, Calif. (July 15, 2019) – For the third time in 2019 and for the first time during his summer stint in the Midwest, St. Helena, California's Rico Abreu earned his way to victory lane, this time surging ahead from the outside of row two during MOWA Sprint Car Series competition at Lincoln Speedway in Lincoln, Illinois.
Taking advantage of his A-main starting position, Abreu earned the top spot in a hurry, advancing from fourth to first by the completion of lap one. From that point forward, it was all Rico Abreu in central Illinois, eventually leading all 25 circuits to snag the $2,000 top prize.
Abreu has been victories with MOWA in the past, most recently scoring a hard-charging victory during competition at Jacksonville Speedway in early October.
"It was a solid night for our team. We needed that, especially with so many races on our upcoming schedule. We are going to be busy, so the extra momentum boost will be big," Rico Abreu said, driver of the Rico Abreu/Curb Agajanian Racing/Abreu Vineyards/Curb Records/Lucas Oil Products/Southern Pacific Farms/Priority Aviation/Self Made Racing/Dancer Logistics/No. 24 sprint car. "I can't say enough about this team. They work hard and it shows. I'm excited to get back to Attica and Eldora."
Rico Abreu continued his recent weekend with a visit to the famed Knoxville Raceway in Knoxville, Iowa, on Saturday, July 13. Utilizing the trip as a test session for upcoming events including the coveted Knoxville Nationals, Abreu concluded his visit to south-central Iowa with a sixth place finish during main event competition, advancing four positions after starting tenth on the grid.
Rico Abreu and Rico Abreu/Curb Agajanian Racing will next set aim on five straight nights with the World of Outlaws Sprint Car Series, first invading the home of 'Ohio's Finest Racing' – Attica Raceway Park in Attica, Ohio, for the annual Brad Doty Classic on July 16.
The next four evenings will all be centered around the highbanks of Eldora Speedway, as Rico Abreu plans to enter #LetsRaceTwo competition on Wednesday evening, July 17, followed by three straight nights of Kings Royal action on Thursday through Saturday, July 18-20. The entire four-day stretch will be capped with an unprecedented, $175,000-to win Kings Royal main event.
SOCIAL MEDIA:
Fans are encouraged to follow Rico Abreu online, as well as on all of the available social media networks. Facebook at https://www.facebook.com/RicoAbreuRacing, Twitter at https://twitter.com/Rico_Abreu, or on Instagram at https://www.instagram.com/rico_abreu/
Rico Abreu Racing: http://ricoabreu.com/
2019 Rico Abreu Racing Statistics: (thru July 15, 2019)
Total Races: 37
Total Wins: 3
Total Top-5s: 14
Total Top-10s: 24
**Stats only reflect starts in RAR #24 Sprint Car
###
CONTACT:
Photo Credit: MOWA Sprint Car Series Credit
Tyler Altmeyer
Rico Abreu/Curb Agajanian Racing
(724) 954-4915, altmeyer119@gmail.com
---